Weddings
On Thanksgiving of 1969, Jimmy Kiernan, a handsome boy from Queens, wandered into a pub in the Bronx and met the love of his life. Roxy was in town visiting her own family and dropped by the neighborhood pub to see some old friends. Jimmy stole the lovely Roxy away from her friends and 45 minutes after they first met, he asked her to marry him. Roxy laughed the first time he asked but less than a month later, on Christmas Eve, he gave her a ring and asked again. She said yes and so began a lifetime of love and commitment.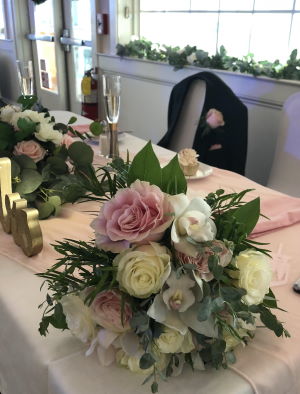 Today, The Lewes Room at Irish Eyes honors the fairytale love story of their founders by providing couples with the individualized service and fabulous food that every love story deserves. Located on the second floor of Irish Eyes Pub in historic Lewes, Delaware, The Lewes Room boasts a breathtaking panoramic view of the harbor from the enclosed sunroom, full-service catering, elevator access and a built-in dance floor. From elopements for 2 to cocktail parties for 200, the professional staff of The Lewes Room creates custom packages for modern couples who want an Insta-worthy wedding without sacrificing personalized service.
Just as Jimmy and Roxy envisioned 35 years ago, Irish Eyes claims to have no customers, only family. Banquet Manager and Events Specialist, Jennifer Brown explains it this way, "When a couple trusts us with their most sacred day, it is our responsibility and our pleasure to make that day as perfect and as stress-free as possible. That's what family does!"
Our pricing: We have packages to meet most every budget and party size.
Buffet packages start at $39 per person plus the venue fee of 35%. Menu selections are varied and can be adjusted to suit your needs. All buffets include two entrees, two sides, a green salad, rolls and butter, as well as coffee, tea, and soft drinks. We are also happy to provide a meal of stations or heavy hors d'oeuvres for a cocktail style event.
Call, text, or This email address is being protected from spambots. You need JavaScript enabled to view it. today to schedule a visit The Lewes Room!